Do you teach your students about media messages? Last year our SOLs (standards) changed and we had to include media messages into our Language Arts curriculum. The state wants our students to be able to categorize a message as auditory, visual, or written. In addition, students need to analyze the source, authorship, purpose, and intended audience of the message.
As with anything new, resources are sometimes short so I thought I'd share a few resources I've found and one I created.
First up. I found this amazing site last year called Admongo and it is fabulous! Like the name suggests, this one focuses more on advertisements and I felt that is where my students needed the most teaching. After all, think about how many ways our students are exposed to advertising in a day and some of them are so subtle it is difficult them to even understand they are being the target of an advertisement.
Both the teacher and student sides of this site are great! The student side is a very fun, interactive game where they look at and analyze different types of media. The teacher site has a lot of great lesson ideas.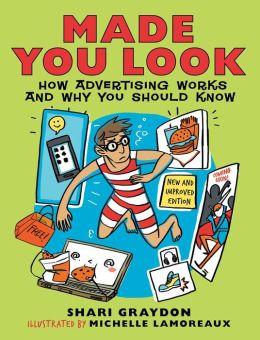 We read bits and pieces of this book, but it is definitely for the older crowd. There were a few things that were over my kids' heads, but still a resource worth mentioning!
We also looked at a lot of advertisements I pulled from the internet and some funny commercials from youtube. It was a really fun couple of days!
I always like to include some movement in my lessons, so we created some hand motions for the 3 different types of messages:
Visual - use your hands to make "glasses" over your eyes
Auditory - cup your hand behind your year
Written - fold your hands out like a book and "read"
I also created a foldable for our interactive notebooks and a quiz for my students. You can click here to see it in my TPT store.
I left the front of the foldable blank so the kiddos could add their own drawings in and they came up with some really creative stuff!
And here we are working on the quiz. Even though I labeled it a quiz, I let them reference their notebooks because this is such a new concept.
Do you teach media messages? What are some of your favorite resources?