What a whirlwind week it has been! We had a snow day on Wednesday and a 2 hour delay yesterday and today. We've also been trying to use 22 or so computers to give all 64 of our students a math benchmark test, so needless to say it has been a cRaZy week!! Like always, I didn't get to everything I planned this week, so our schedule is looking pretty packed next week.
Hello my name is Courtney and I'm addicted to Instagram!!! This little bit of inspirational goodness came from Holly Switzer at just the right time this week. I love getting glimpses into classrooms and seeing fantastic work from students! It has really been very motivating for me and I can't get enough. If you've caught the bug too you can follow me at polkadotlessonplans.
Do You Want to Build a Snowman
has become a favorite little brain break in my class. Confession: I want to listen just as much as the kids! The songs from this movie were just incredible!
As part of our word reference study we labeled this dictionary entry in our notebooks. I'll be honest here, I'm up in the air about this activity. On one hand I'm thinking it may have been a little too time intensive, but on the other it was a great way to sneak in a lesson on diagrams and labels!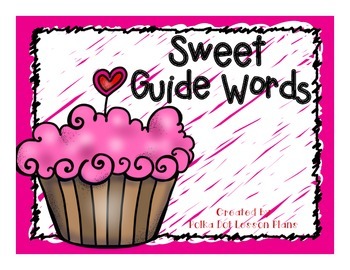 In all the dictionary talk, we've been working on guide words and determining which words would belong on a page with certain guide words. We needed more practice, a lot more practice, so I made this little worksheet. You can click on the picture to pick this up this FREEBIE with an answer key! Woot woot!
On Wednesday I took some time to work on lesson plans and I had a little Ladybug helper. I just love this picture of her. At the rate we are going with snow and scheduling I'll be doing those plans in two weeks....haha!! Anyone else over plan?